Blundstones are a type of stout leather boot with elasticated panels at the ankles, originating in Australia. These types of Chelsea boots appeal to people of all ages and gender. These boots never go out style, and that's why you will find people with many pairs worn over several years. They come in a range of colors, but the most common are brown and other shades of brown. But are Blundstones good for hiking? Read on to find out.
Are Blundstones Good For Hiking?
Blundstones are the go-to shoes for all your daily activities. While you can select Blundstones for hiking, they are best for short and flatter terrains. If you are going to handle tougher terrains for a couple of hours, it is would be best if you wore hiking boots or shoes.
Hiking In Blundstones
Hiking is a fun yet challenging activity that many people engage in. Hiking while wearing the right shoes can help you through challenging treks and trails; hiking in the wrong shoes can lead to injury and agony. Blundstone boots are among the most well-known footwear options. Because these Tasmanian-designed boots are known for their durability and style, it is no surprise that they have a worldwide fan base. So can you hike in Blundstones?
LEGAL DISCLAIMER: This post may contain affiliate links. If you click an affiliate link and make a purchase, I may earn a commission. Also, as an Amazon Associate, I earn from qualifying purchases.
If you are planning on hiking in these shoes, here are some factors you need to consider:
Traction
You need a great pair of hiking shoes, especially on trails where you are likely to walk on slippery trails or those full of small rocks. Good traction and grip on hiking boots ensure you do not slip and fall. Blundstone hiking boots have a rugged TPU outsole, and this outsole is flexible and durable, making it suitable for flat and gentler terrain. Hikers need proper hiking boots with good grip and traction to handle more challenging terrains. Here's the Blundstone Unisex Original 500 Series:
Related: Hiking for beginners tips
Ankle Support
A good hiking shoe needs ankle support to prevent ankle sprains. As you navigate the highs and lows of terrains, your ankle ligaments stretch in all directions. Ankle support is crucial to avoiding excessive ligaments movement, and the boot holds your ankle in place. Compared to the standard sneaker, Blundstone shoes offer better ankle support and are thus great for hiking.
Breathability
While hiking, you want air and water vapor leaving the shoe while also allowing cooler air from outside to prevent sweat accumulation. Having wet feet can cause trench foot. Wet socks are likely to cause blisters, and your feet will definitely be cold with wet feet. The Blundstones are waterproof and have relatively low breathability, making air circulation poor. So, it's probably not the best shoe if you are thinking of hiking for long.
Related: How to prevent blisters while hiking
Fitting
Hiking shoes need to fit your feet perfectly to reduce friction which causes blisters. Snug-fitting hiking shoes have their benefits; they prevent pebbles from slipping into shoes, provide warmth while trekking, and reduce feet movement. In Blundstones, your feet are secured making them great for short, flat trails. However, these shoes are not suitable for rough terrains. The laceless design is convenient, but your feet are not secured well for long-distance trekking.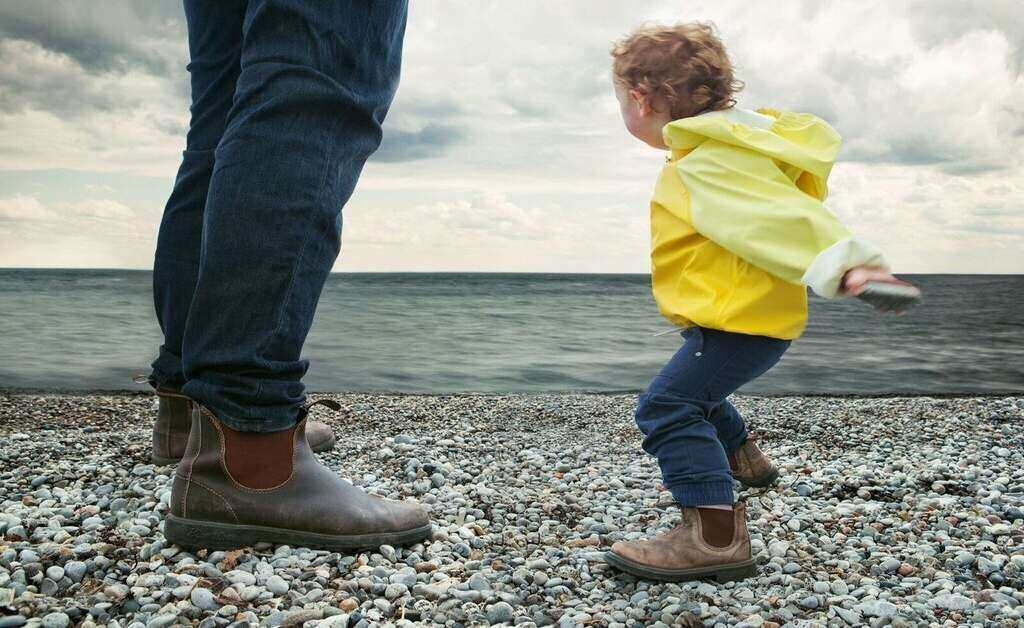 Durability
Hiking boots should have a level of durability that can withstand elements they will be put against. As you take on your expeditions, your shoes wear out; the seams begin to come apart, the soles start to come off, and the waterproof membrane starts to break apart. The time it takes to wear out is determined by the shoes' durability. Blundstones are made of new and improved materials, making them sturdy and strong.
Blundstone Categories
1. Originals
Blundstones Originals were launched in 1968. They were mostly sold to construction workers, farmers, and other daily casual workers. With time more people discovered the shoes – their popularity growing through word of mouth. These boots were built with comfort and quality in mind. Apart from looking good, the shoes can be combined with different styles. One drawback of the original is that it did not have an inner lining despite being made with high-quality leather. Check price of Blundstone Originals on Amazon.
2. Classic
Blundstone classics are upgrades of the originals. This model has partial lining with leather, and the heel and tongue are lined with fabric. They offer more comfort with the extra insole and the inbuilt shockproof system that provides extra cushioning. The additional cushioning alleviates pressure on your feet which leads to fewer back problems. The classic series has a wider fit to offer extra room.
Related: How to prevent knee pain while hiking
3. Women's Blundstone Boots
Women's Blundstone boots are designed to be sleek and stylish to match a woman's outfit, and they are made with ultimate comfort in mind. These Blundstone boots are made with supple leather and have a feminine design to ensure wearers feel comfortable in them. The shoes go higher up the ankle than classics and originals and have brogue stitching along the elastic. Additionally, the boots have a five-inch heel for extra cushioning and the same lining as the classics. Check price on Amazon.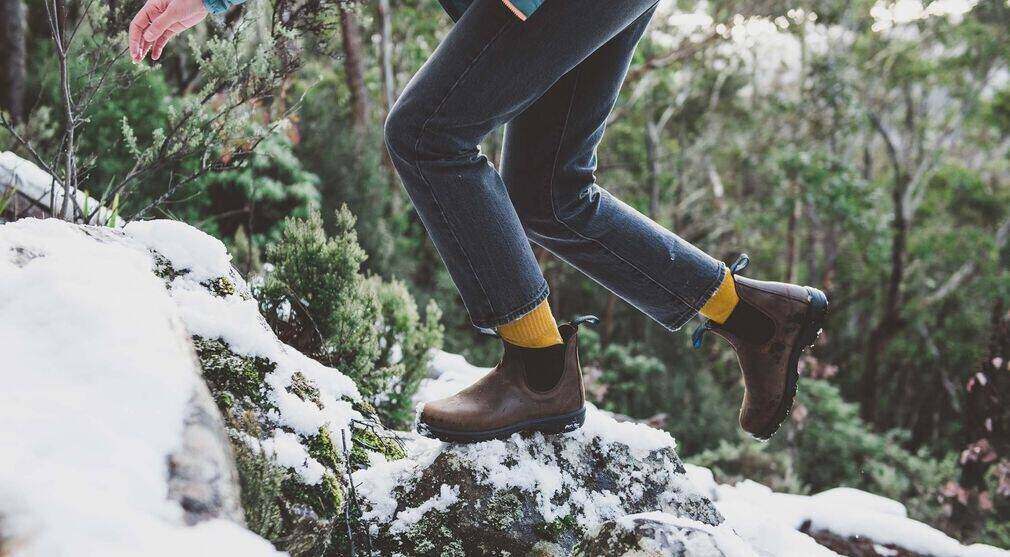 4. Thermal Boots
The thermal Blundstones are advanced in style and efficiency. Fully waterproof and lined with Thinsulate insulation technology, they guarantee to keep you dry and warm during winter and cold nights. They are also made with a removable genuine sheepskin fleece footbed that adds to the warmth. This series of boots have a durable TPU outsole for better traction and grip. The thick midsole and SPS Max Comfort System in the heel reduce shock, fatigue, and lower back issues. Check price on Amazon.
5. Dress boots
The dress boot is a stylish, durable, and versatile shoe perfect for all occasions. With this Blundstone, you can move from an outdoor activity to dinner with friends. Designed to offer timeless style, it comes with a chisel toe instead of the standard round and warm leather lining for comfort. The dress boot is weatherproof and handles various terrains while maintaining its chic look. Check price on Amazon.
6. Active Series
The Blundstone Active series boots are another line of boots that have attracted the young and the old. These boots are made of suede leather and have arch footbeds made with soft polyurethane covered with Polyurethane foam cushion for comfort. Additionally, these shoes are lightweight, offer stability, and have lightweight phylon EVA outsoles for grip. Check price of Blundstone Active Series on Amazon.
Related: Tips for hiking in the rain
7. Children's shoes
Blundstones are not just for adults; they are also perfect for children. A good pair of shoes for your child is essential. It allows your kids to dress themselves up perfectly and run around the park or backyard freely and in comfort. Children's Blundstones are available in various sizes and colors.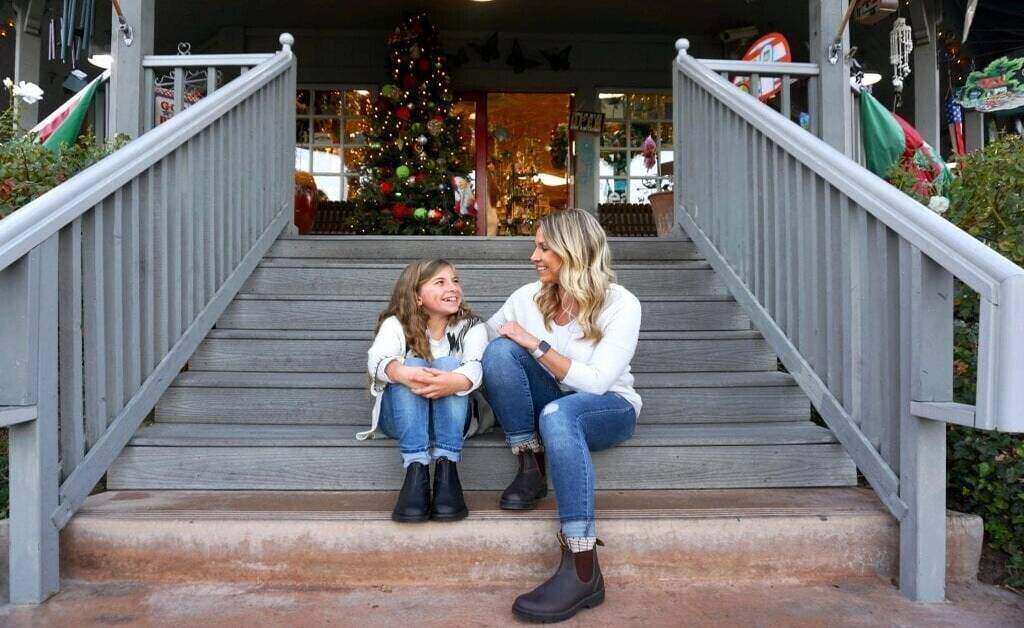 Pros Of Blundstones
Here are some reasons why Blundstones have been a popular shoe option for decades;
Made with quality leather making them comfortable
They are durable
Offer good grip and traction
They are water-resistant and can keep your warm
Stylish to complete various outfits
They have good stability reducing fatigue
Lightweight
They have the ankle elastic for minimal fatigue
Cons Of Blundstones
They take quite a while to break-in
They do not provide enough ankle support required for long hiking trips
History Of Blundstones
Blundstones is an Australian footwear company founded in 1870 in Tasmania. Initially, the company produced army boots that served the troops in World War I and II. In 1968, they introduced their Original 500 series of comfortable boots. The 500 series Chelsea boot went on to be popular worldwide, with branches opening in major cities like New York and London.
Over the years, Blundstone boots have maintained their quality and advanced with technology to cater to everyone. They are still regarded as iconic Australian shoes, and the company has done a lot to maintain that image. They are now a popular all-season boot for anyone wishing to add a touch of workwear style to their collection.
Related: What to wear hiking in the summer
Here's the experience of a hiker who went on an impromptu 8-mile hike in blundstones:
Frequently Asked Questions
1. Are blundstones comfortable?
Blundstones are built to serve you in your day-to-day activities. Their comfort makes them perfect for strolls, events, hanging out, and many other activities you like. It's the main reason Blundstones are popular with all ages.
2. Are blundstones good for travel?
When traveling, the choice of shoes to wear is a constant debate; the comfort, storage space, and the style you aim for. Blundstones make great travel boots. Their comfort, versatility, and sleek design make them the ideal shoes for traveling.
3. Are blundstones waterproof?
Blundstones are made with fine waterproof leather making them water-resistant but at the same time breathable. They are also sewn with a unique stitching technique that prevents water from penetrating the stitches.
Blundstone boots add to your style and will stay with you through the seasons. They are attractive, robust, and water-resistant, making them excellent options for hiking enthusiasts. So, if you like to take a short hike every now and then, Blundstones are the perfect footwear. However, It is important to note that Blundstones may not be the best option for people looking to handle rough and steep terrains. They lack adequate ankle support, grip, and breathability that modern hiking boots provide. Have you ever hiked in Blundstones? Let us know in the comments section!