With so many options out there, it can be hard to decide which hiking shoes are right for you. But one brand that has consistently been praised for its quality and durability is Merrell. But are Merrall shoes good for hiking? Read on to find out.
LEGAL DISCLAIMER: This post may contain affiliate links. If you click an affiliate link and make a purchase, I may earn a commission. Also, as an Amazon Associate, I earn from qualifying purchases.
Anatomy Of Merrell Shoes
The uppers of Merrell shoes are made from either leather or synthetic materials. This helps protect your feet from rocks and other trail debris while providing excellent breathability and water resistance.
The lacing system is designed to provide a secure fit and the extra cushioning around the ankles helps to keep your feet comfortable during long hikes.
Merrell shoe soles feature Vibram rubber outsoles with specialized lugs that provide superior traction on rocky terrain. The midsoles are constructed with EVA foam to provide maximum shock absorption and cushioning for your feet. Plus, the footbeds are contoured for added arch support so your feet don't get tired as quickly.
Note that Merrell offers a wide range of styles and colors. No matter your style, you're sure to find something that fits your aesthetic. Not only that, but they also come in different sizes of fit and cushioning – allowing you to find the perfect shoe for your feet.
Related: Can You Hike In Vans?
Benefits Of Merrell Shoes For Hiking
I've been a big fan of Merrell shoes for years. Not only are they stylish and comfortable, but they're also perfect for any outdoor activity, especially hiking. Here are some of the benefits that Merrell shoes offer hikers:
Durability – Merrell shoes are designed to last through numerous terrain and weather conditions. They are more durable than other brands, allowing you to enjoy your hikes for longer periods without worrying about replacing your shoes often.
Grip – They provide excellent grip on surfaces like dirt, rocks, and mud. This will help keep you safe and secure when traversing more difficult trails or climbing steep inclines.
Support – Lastly, Merrell shoes offer great support while you hike with their cushioning technology that absorbs shock and provides extra comfort. Plus, many styles feature arch support that helps reduce fatigue in the feet and legs while walking long distances.
Comfort And Fit Features
When it comes to hiking, comfort and fit are key factors to consider. The good news is that Merrell shoes come in many sizes, shapes, and styles for both men and women. Plus, the materials used in their footwear provide maximum breathability, support, and cushioning.
The brand's unique 'QForm Comfort' technology uses a midsole cushioning system specifically designed to align with the natural shape of your foot. This provides superior arch support and improved gait efficiency when walking or running.
Moreover, Merrell shoes feature protective toe caps that guard against stubbed toes and jagged rocks. It all adds up to a product line designed for hikers who want the best performance out of their footwear.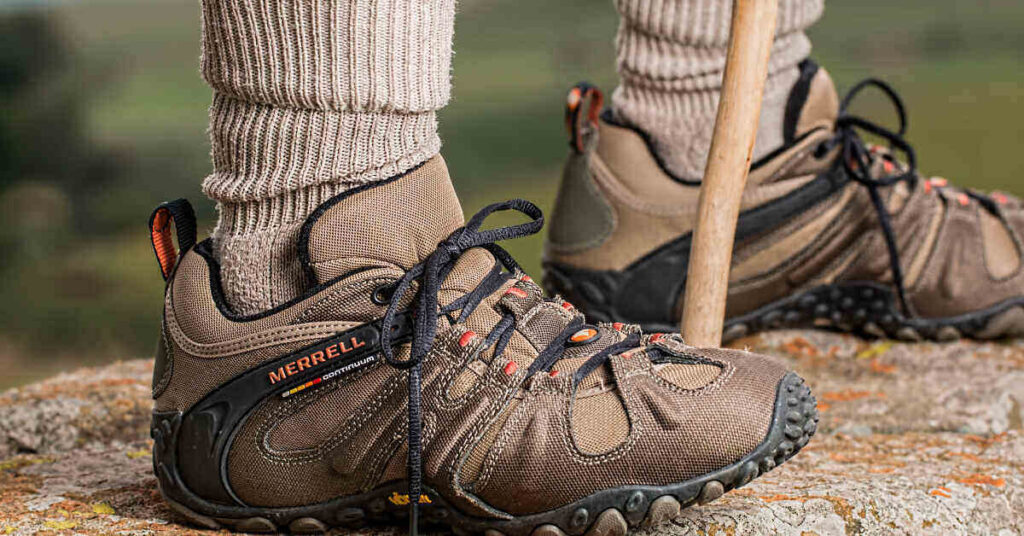 Outsole Technology
Merrell shoes' outsoles come with multi-directional lugs that provide excellent traction on slippery and uneven terrain. This helps to reduce the risk of slipping, providing a secure grip on whatever surface you're walking on.
The outsoles are also made from rubber compounds that absorb shock and cushion your feet during long hikes. This makes them comfortable to wear while walking over rough ground or rocky terrain. Also, they have a reliable grip on wet surfaces, so you don't have to worry about slipping in wet conditions.
Related: Are Blundstones Good For Hiking?
Popular Models
I'm a big fan of Merrell shoes. They have some great models that are perfect for hiking. The Moab 2 is my personal favorite. It has a nice, comfortable fit, and the Vibram sole provides great traction on different terrains.
Another popular model is the Merrell Wilderness Boot. This boot is lightweight yet still provides excellent support, and it's waterproof so your feet stay dry in wet conditions.
The Jungle Moc is another excellent choice for those who want a lightweight shoe with good cushioning and traction. All these models are durable and provide plenty of comfort while walking.
Pros And Cons
Moving on from discussing popular models of Merrell shoes, now let's look at the pros and cons of using them for hiking.
Pros
Comfortable: Merrell shoes are designed to provide comfort and support to the feet. They come with cushioned soles, making them comfortable for long periods, especially on rugged terrain.
Durable: The shoes are made of high-quality materials, such as leather and Gore-Tex, which make them durable and long-lasting. They can withstand harsh weather conditions and rough terrain, meaning they remain intact even after many hikes.
Good Traction: Merrell shoes are designed with a sturdy sole that provides good traction on various surfaces, including slippery rocks and wet ground, making them ideal for hiking in different terrains.
Breathable: Many Merrell shoes have breathable materials, such as mesh, which allows air to circulate around the feet, preventing them from getting too sweaty or overheated.
Cons
May take time to break in: Some hikers may find Merrell shoes uncomfortable at first, and it may take some time to break them in properly. This can cause blisters and discomfort during the initial stages of hiking.
Limited options for wide feet: Merrell shoes may not be the best choice for people with wide feet, as some of their models may not offer enough room in the toe box.
Not ideal for heavy loads: While Merrell shoes are suitable for light hikes, they may not be the best option for carrying heavy loads. They lack the necessary support and structure for carrying heavy backpacks, and prolonged use could lead to foot pain and discomfort.
It is important to consider these factors and choose the right shoes that best suit your needs and preferences for a comfortable and enjoyable hiking experience.
Care And Maintenance Guide
Caring for your Merrell shoes is an important part of ensuring they last. Here are a few simple tips for taking care of your Merrell shoes:
First, clean them after each use. Remove dirt and mud by wiping the shoes with a damp cloth or brush. Allow them to air dry in a well-ventilated area away from direct heat or sunlight. You can use a mild soap solution to remove tough stains if necessary. Here's a guide on how to wash Merrell shoes.
Second, regularly use a leather conditioner to condition the leather components of your Merrell shoes. This will help preserve the leather and keep it looking great. Make sure not to over-apply the conditioner, as this can cause discoloration.
Finally, store your shoes in a cool, dry place away from direct sunlight or heat exposure when not in use. Doing so will help extend their life and ensure they remain in good condition for many years.
What To Consider When Choosing Hiking Shoes
When looking for a good pair of hiking shoes, there are several things to consider. The terrain type will determine whether you need a sturdy boot or a lightweight shoe. You should also consider the weather conditions and the support and cushioning required.
When it comes to terrain, boots provide more stability and protection than shoes do. If you plan on trekking over uneven ground, rocky surfaces, or thick mud, then boots are probably your best option. A light hiking shoe may be enough if the terrain is more even and easier to traverse. Waterproof materials are necessary if you expect rain or snow outdoors.
Merrell shoes offer excellent arch support and shock absorption technology that helps reduce foot fatigue. They also have an antimicrobial lining to help prevent blisters from forming due to sweat and moisture buildup inside the shoe.
Related: Can You Hike In Doc Martens?
Customer Reviews
I've heard a lot of positive reviews about Merrell shoes for hiking. Most people say that the quality and comfort are top-notch and that the shoes are designed with hikers in mind. They also mention that the tread on the soles of the boots is ideal for navigating slippery surfaces and steep terrain.
Undoubtedly, many hikers have had great experiences with Merrell shoes. Several customers report that they have never experienced blisters or hot spots even after hours of wear, which is fantastic when you're out on an all-day hike. Moreover, some customers commented that these shoes have lasted for years without showing signs of wear and tear.
Frequently Asked Questions (Faqs)
Are Merrell shoes good for your feet?
Merrell shoes feature foot-conforming memory foam insoles and arch support to keep your feet comfortable and healthy. They also use air-cushioned midsoles and an ergonomic design to provide additional support. The shoes are made to promote natural foot motion and overall foot health.
Are Merrell shoes good for walking?
Merrell shoes are designed with comfort and support in mind, and feature unique technologies such as air cushioning and QForm® Comfort midsoles that help to absorb impact and provide support. They are also durable and waterproof, making them perfect for outdoor walking activities.
Are Merrell shoes good for plantar fasciitis?
Merrell shoes are a great choice for plantar fasciitis. They come with special comfort and cushioning features that help reduce the strain on the plantar fascia. They also provide arch support and shock absorption, which are important for plantar fasciitis.
Are Merrell shoes good for wide feet?
Merrell shoes generally provide good support and comfort for wide feet. Many styles offer a wide fit option and extra cushioning to ensure a comfortable fit. However, some of the more basic styles and some of the athletic styles may not provide the best fit and support for wide feet.
Are Merrell shoes good for standing all day?
Merrell shoes feature supportive and cushioning technologies to help keep your feet comfortable all day. They come with arch support and shock absorption to reduce fatigue and keep your feet feeling fresh all day. Plus, they are built with breathable materials to keep your feet dry and cool.
Are Merrell shoes good for flat feet?
If you have flat feet, Merrell shoes are an excellent choice. They are designed with Motion Control technology that helps to stabilize your foot and reduce overpronation. The shoes also feature supportive cushioning for added comfort, plus a deep heel cup for improved arch support.
Final Thoughts
I've been wearing my Merrell shoes for years and have never had any issues with them. They still look almost brand new after all this time, which is a testament to their quality construction. I also appreciate how lightweight and breathable they are – perfect for long hikes in the summer months!
In short, if you're looking for reliable hiking shoes, Merrell is worth considering. They have numerous models and their durability means you won't have to replace them anytime soon. So don't hesitate – get out there and explore nature with your trusted pair of Merrells!