Zion National Park is located in beautiful Southern Utah. The park encompasses 146,597 acres of land with hundreds of miles of trails and more than 1000 rock climbing sites. If you are planning to go to the park, it is crucial to know the best times to visit this spectacular attraction. To make your visit more interesting, then read on to discover the best time to go to Zion National Park for your next trip.
What is the best time to go to Zion national park?
Winter
The season offers cool temperatures and is a great time to be in the park. There are more open trails, and crowds of tourists are usually smaller during these months. Therefore if you don't like crowds, then this is the perfect season for you. Normally, the higher elevations are covered in snow during this period, so you will enjoy the spectacular views. In addition, Zion canyon's floor has mild temperatures during this time of the year.
Some campsites with running water may be closed due to freezing temperatures at Zion in the winter months. Visitors can still enjoy hiking, rock climbing, and snowshoeing through the park during colder months. Note that the shuttle system does not work during this season, so you can drive around and enjoy the snowy landscape. Make sure you're dressed up for the cold weather.
Spring
Spring is a fantastic time for the whole family to visit Zion National Park. The temperatures are more favorable than in winter, and there are fewer crowds of tourists visiting than at other times of the year. You can move around using the shuttle system.
Spring offers some great hiking trails, where visitors can take advantage of waterfalls that may be on their way down from melting snow. Note that snowmelt usually causes flooding, meaning some of the trails have to be closed during this season. It's also the perfect season to see wildflowers blooming and the colorful gardens in Emerald Pools and Weeping Rock.
Summer
If you have been planning on visiting Zion in the summer months, then this would be an excellent time for your trip. Summer is the busiest season at Zion because school-going children are usually on a break and many families prefer going on vacations at that time of the year. The warm weather is also another reason many visitors flock to the park in summer.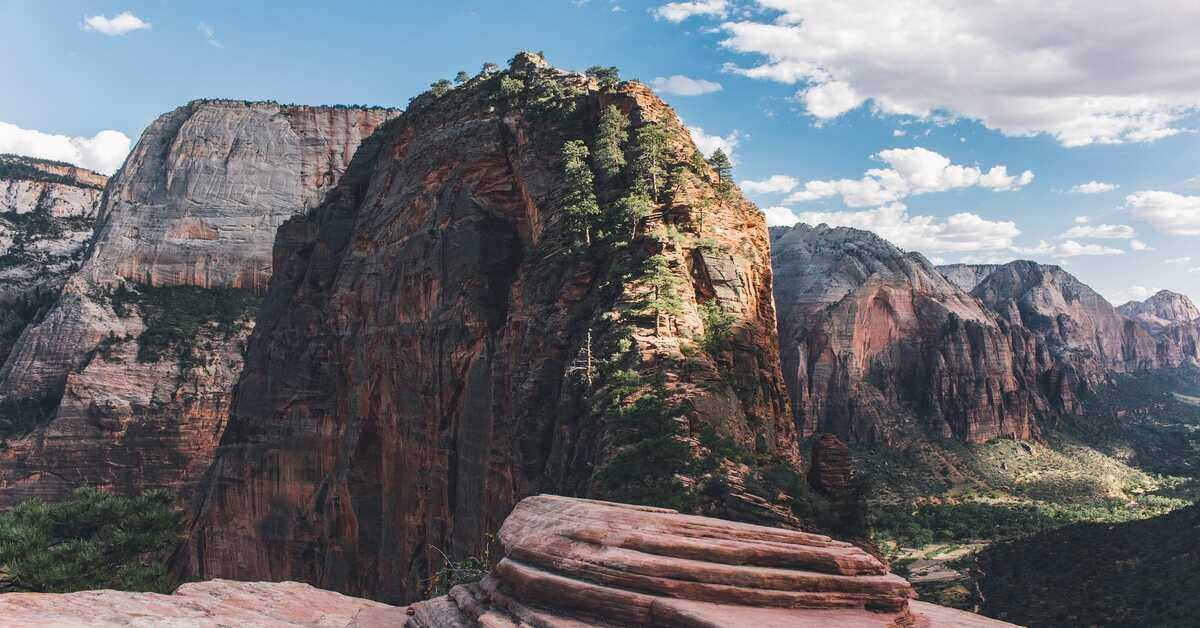 Visitors can enjoy spending their time doing activities like hiking, climbing, and sightseeing. Summer is also great for people who want to participate in more extreme activities such as mountain biking. Visitors can enjoy wading through rivers or exploring slot canyons without feeling too crowded. Here are some tips on what to wear hiking in summer.
During the warmer months, children can get out and play on hiking trails or enjoy visiting the many waterfalls. There are rafting trips on the Virgin River during the summer, which would be fun for young children.
During the summer, you will also enjoy the ranger-led shuttle trips. Other ranger activities and programs at Zion include:
Guided walks and hikes which will take you to less-visited areas of the park. It could be anything from a hike under the full moon or a tour of the wildflowers.
45-minute evening programs which happen at Zion Lodge Auditorium and Watchman Campground Amphitheater. They include slide shows covering subjects such as the park's geology, slot canyons, plants, and animals.
Rangers also hold talks on the above topics at venues like the Zion Human History Museum.
Children between 4-12 years can join the Junior Rangers and engage in activities to earn pins and certificates.
The Best Time To Go: September and October
If you are looking for a less busy trip to Zion National Park, September and October are the best months. There is a small number of tourists during these months, and most people have returned home for school or work.
The temperatures in Zion are still pleasant for hiking, sightseeing, or rock climbing. If you want more mild temperatures during your vacation, then this would be the best time to go to Zion National Park. Note that you can visit Zion any time of the year, but for the most pleasant experience, then plan a trip for September and October.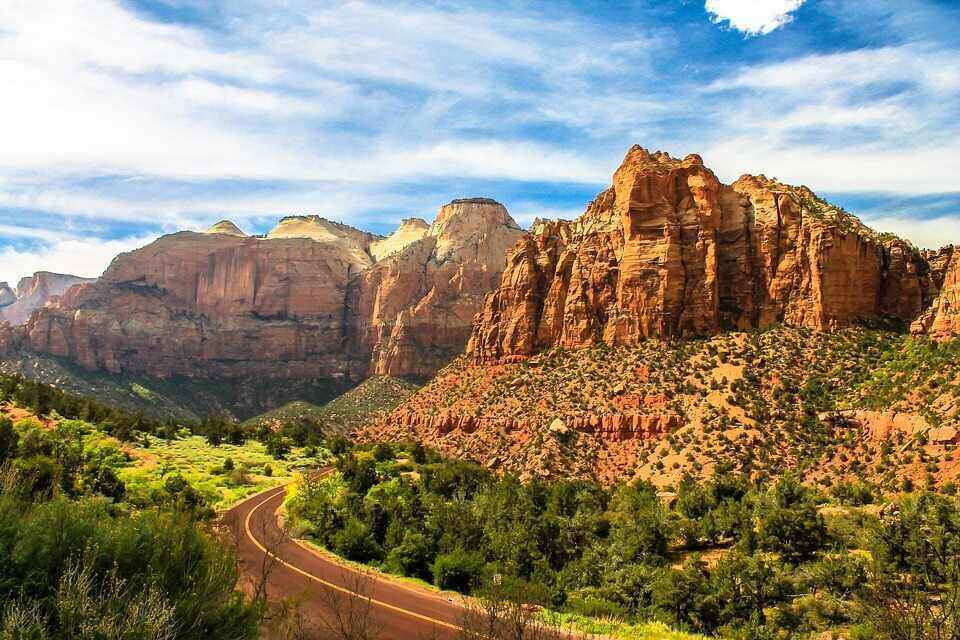 How to get there from Las Vegas?
It is easy to get from Las Vegas to Zion National Park. There are about seven national parks within a two-hour drive of the Las Vegas Strip, so it's very convenient! You can take a shuttle or rent your own vehicle, but if you're traveling in crowded conditions on the main roads, be prepared for traffic jams and delays.
Book your flight to Vegas, then drive to the park. The distance is approximately 160 miles and takes about two and half hours by car. Most airlines allow you to check in up to two weeks ahead of time. Traveling on a non-holiday weekday ensures that you will arrive at Zion before the masses! Avoid traveling at rush hour, as it will lengthen your travel time.
Things to do and see at Zion National Park
1.      Rock Climbing and Canyoneering
Zion's slot canyons and overall landscape make it an ideal location for canyoneering and rock climbing. You will probably come across climbers as you explore the park. Stores at Springdale offer equipment rentals and training. Check out this post on rock climbing tips for beginners.
2.      The Zion Canyon Scenic Drive
The Zion Canyon is one of the main attractions at the park. Visitors get to it via the Zion Canyon Scenic Drive, a 54-mile road on the canyon floor. As you take the tour, you will come across the park's incredible sights, such as Twin Brother's mountain, the Court of the Patriarchs, and Angels Landing.
You can take the shuttle bus during the peak season as personal vehicles are prohibited. However, you are allowed to use your own car from December to February.  Visitors can get out of their cars or shuttle bus at any place along the drive and start hiking or biking. So, if you're an avid biker, do not forget to bring your bike! Note that The Narrows begins at the end of this road.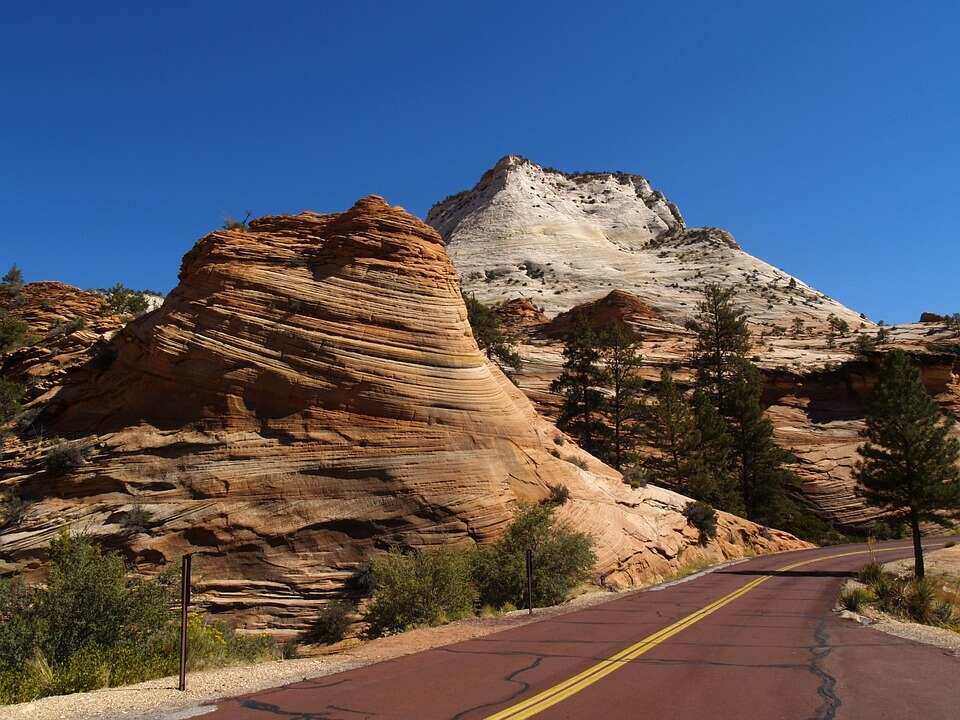 3.      Camping
Camping at Zion National Park is awesome. While there are campsites outside the gate, you might want to try camping inside the park to see the wildlife up-close, stargaze, and enjoy sitting around a campfire at night.
Near the West Gate entrance are the South Campground and Watchman campground. They're not far from Springdale, so you can quickly get anything you need from town. If you want a more remote campsite, then consider checking out Lava Point Campground. It is found on Kolob Plateau at around 8000 feet, and you'll experience much cooler temperatures while camping there.
Remember to carry your own water when camping at the park. Also, the roads leading to the campgrounds are uneven, so ensure you check their state before heading out.
4.      The Narrows
Hikes are popular at the Zion National Park. The park has various trails of different lengths, so you can choose a day or multiday hike. One of the most well-known is "The Narrows" trek. As the name suggests, this is Zion Canyon's narrowest part. It's a trek through the Virgin River that ends at a beautiful waterfall.
You can hike The Narrows during summer and spring because water levels are low and temperatures are favorable. The Narrows trail is uneven, slippery, and rocky, so ensure you have gear such as good quality hiking boots and a trekking pole when planning to hike there.
Remember, flash flooding is not uncommon due to afternoon thunderstorms. Therefore, always be on the lookout for an increase in water level and flow. Aside from The Narrows, you can also hike Angels Landing, which leads to a viewpoint that provides a great view of Zion Canyon.
5.      Weeping Rock
Weeping Rock is another unique sight found along the Zion Canyon Scenic Drive. The rock overhang has marks of water streaming down; thus the name "Weeping" Rock. The water coming down the huge stone can be anything from drips to waterfalls, depending on the season you visit the park. You will enjoy seeing the hanging gardens and the spectacular valley below.
The Lower Emerald Pools are almost similar in that they consist of weeping cliff walls with small pools below. You can access this site via a six-mile paved route, and you can go on to the Upper and Middle Emerald Pools.
6.      Stargazing
Because it is away from light pollution, you can see more stars in Zion's high-altitude environment than almost any other place across the globe.  The park also hosts stargazing events where amateur astronomers share their knowledge about the night sky and offer some tips on identifying what you see in the sky. In addition, if you are staying late or camping at the park, you can catch beautiful sunsets. Here are some great spots for stargazing and sunsets.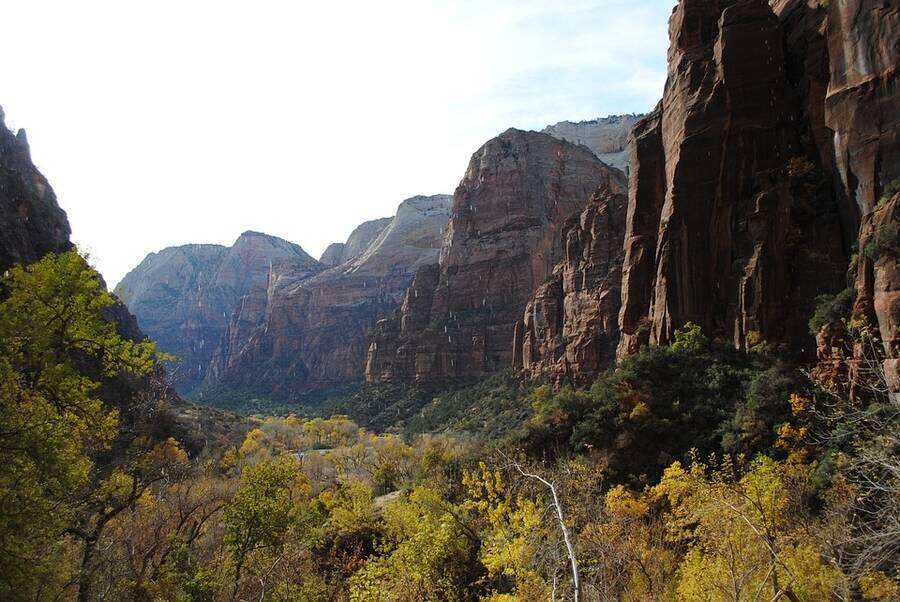 7.      Horseback riding
This is another great activity to do on vacation in Zion National Park, especially if you're looking for a hiking alternative. The rides will take you along the edge of the Virgin River and other areas of the park. You can choose one-hour rides or even longer ones if you're an experienced rider. Ensure you book the tours early enough to avoid waiting when you arrive at the park. The tours are usually available from March – October.
8.      Zion Canyon Giant Screen Theatre
Stop by the Zion Canyon Giant Screen Theatre to watch "Treasure of the gods," a documentary about Zion. The screen is 82 feet wide and 60 feet high, the biggest in the state. You can also watch blockbusters and 3D films at this unique theatre.
9.      Zion Human History Museum
Before leaving town, stop by the Zion Human History Museum to learn more about how this area was discovered and originally settled.  The museum also houses an exhibit all about petroglyphs-rock carvings from ancient people. The museum is just one of three main museums run by the Zion National Park Foundation that help support the park and make it possible for everyone to enjoy this incredible place!
10.  Enjoy the Zion-Mount Carmel Highway Scenic Drive
The Zion-Mount Carmel highway cuts through the park from the East to the Entrance. It's just like the Zion Canyon Drive, but it offers stunning views of the valley on different sides as you drive up the switchback road. You may also be interested in the 1.1-mile tunnel on Zion-Mount Carmel highway built in the 1920s. It was built to allow people to directly access the Grand Canyon and Bryce Canyon from Zion National Park. Since the tunnel wasn't designed for large vehicles such as buses and motor homes, it is difficult for them to navigate the tunnel's curves. To prevent accidents, traffic is held back on one side when RVs are entering the tunnel. If you will be using an RV in the park, you will have to pay a fee at the entrance.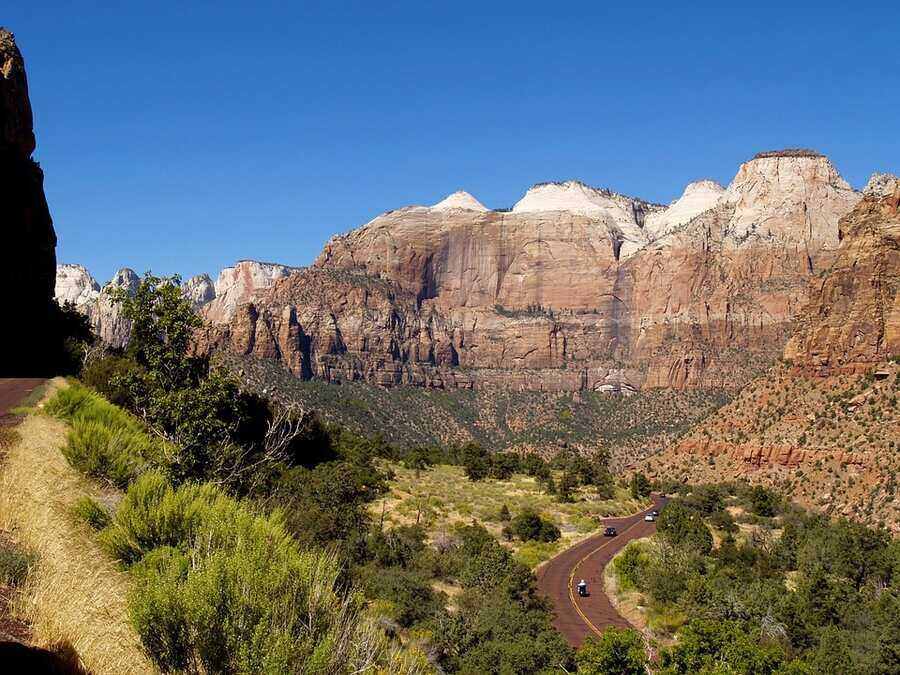 How long it takes to drive around Zion national park?
For those looking to explore Zion National Park, driving would be a great option. Visitors typically spend a few hours exploring various trails and stopping at places of interest along the way. It doesn't matter if you drive in a car or an RV- there are many spots available to park and explore Zion!
Tourists can spend as much time driving through the park as they like, though certain areas are better suited for larger vehicles.
What animals live at Zion National Park?
One of the best things about Zion National Park is that visitors can often see a wide variety of national animals in the park. It is home to over 60 species of mammals, birds, and reptiles. This includes the bighorn sheep, white-tail deer, mule deer, cougar, and even coyote!
If you're at the park in March or April, you may see some wallabies as well. Also, various species of birds can be spotted at Zion, like the bald eagle, sandhill crane, and the red-faced warbler.
How to prepare for a visit to Zion national park
How would you prepare for a visit to Zion national park? Ensure that you dress appropriately, as you never know when the weather will change. It can get quite hot during the summer months, so bring a light jacket and don't forget to pack your sunglasses!
If you bring your pet along, it's highly recommended that you have them on a leash at all times.  Visitors are also advised never to feed any animals that they spot while visiting Zion.
The best time to visit Zion National Park is largely dependent on what you are looking for. If you want a mild climate, visit the park during the winter and spring months. However, if you are interested in cool fall temperatures and fewer crowds at the park, come during September or October – after Labor Day weekend!
Regardless of when you plan on traveling to this majestic national monument, there's no wrong time of year to see it with your own eyes. We hope that our guide has helped answer your question on the best time to go to Zion National Park. We can't wait to hear how everyone enjoys their trip!