The winter is a wonderful season. It's when winter sports begin, and winter hikes can be some of the most exciting adventures you'll have. Hiking in winter requires extra gear, clothing, and special techniques. Here's everything you need to know about winter hiking:
Winter hiking gear
When winter hiking, you need to carry the appropriate winter hiking gear. This includes winter boots, winter hats, winter vests, and winter gloves. Maintaining proper body temperature is the most critical part of winter hiking – your body will work better at keeping warm when it's kept warm! Let's take a look at winter hiking gear.
Related: Hiking tips and tricks for beginners
Winter jacket
You will need a winter coat with the following:
A waterproof outer layer of fabric: Especially if you're hiking when there's snow falling or on frozen terrain. A good jacket does not easily get soaked by precipitation.
A hood: It should be big enough to fit over winter hats, scarves, and winter beanies. The winter hat will keep your head warm.
Thinsulate insulation or similar: To maintain the body temperature, winter jackets need to be insulated with a material that can insulate no matter what conditions you're in. Find winter jackets insulated with Thinsulate insulation.
Winter hiking pants to wear
You will need a pair of winter pants with the following:
A waterproof outer layer of fabric: Great winter pants are vital as they cover winter hiking gear such as winter boots and winter socks, so it doesn't get wet.
Pockets: Winter hiking pants should have big enough pockets for things like gloves and hats. Winter gloves are very important winter clothing for hikers, so it's essential to make sure they fit in the pockets of your winter hiking pants.
Thinsulate insulation or similar: Winter hiking pants with Thinsulate insulation helps hikers regulate their body temperature.
Winter hat
Hats should be insulated but not too warm. You want your winter hat to provide warmth without being hot – you don't want it to make you sweat or feel claustrophobic! Pack a winter beanie or hat.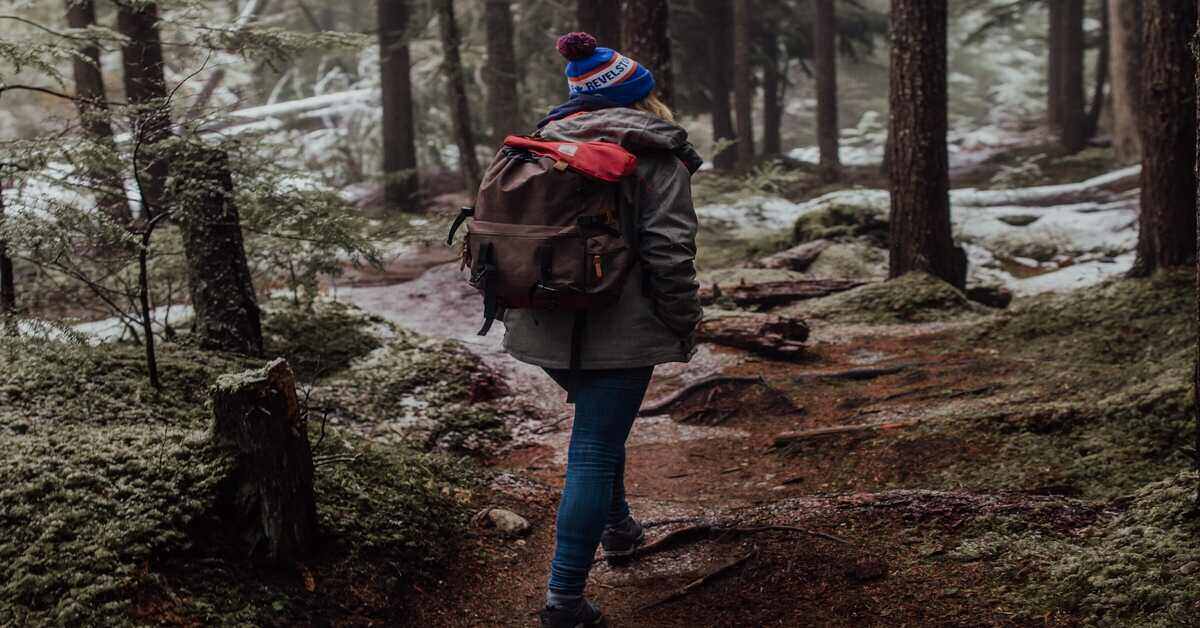 Winter gloves
Keeping your hands warm in winter is very important! Get winter gloves that keep you warm, but give you full use of your fingers – if there's no way to move your fingers around inside the glove, then it doesn't matter how warm your winter gloves keep you!
Winter hiking boots
Your winter hiking boots should have a good grip, be insulated and waterproof. You'll also want winter traction devices for your winter boots. This winter hiking gear should also give good arch support – otherwise, you risk getting shin splints or worse.
Winter socks
If your feet get too cold, hiking in winter can be very hard. Get winter socks that are breathable and keep your feet warm.
Winter lights
If you're thinking about going on a winter hike at night, then you'll want winter lights. There are headlamps available that will keep your hands free and make you visible to others.
Winter Hiking Tips
Be visible
When hiking in the winter at night, you need to remember that if you're not wearing lights, then other people cannot see you! So make sure you have headlamps with you.
Winter hiking snacks and meals
When you're winter hiking, it's hard to have a hot lunch! It's important to remember that your body needs fuel and calories when you're out there in the cold, so make sure you bring along some snacks to keep your energy levels up.
Tackling winter hiking hazards
Many winter weather situations can be hazardous. For example, if you're going on a winter hike and it snows, there's a much higher chance of getting injured or attacked by wild animals.
You'll notice that there's ice on the ground or in any of the lakes or streams around you. To be safe, have appropriate winter hiking gear (and, if possible, advice from someone more experienced in winter hiking winter) so that you don't fall in!
Winter hikes for beginners?
Winter hikes can be challenging – it's important to start with short walks and then work your way up. Also, you need to know whether or not you like winter hiking (some people hate hiking in the winter – there's no point in forcing yourself to do it!)
Hiking with dogs
Dogs can be great for winter hiking, but you do need to make sure they're prepared! And make sure they don't run off or get lost! You should bring special dog boots and make sure they're warm – they actually need to be much warmer than you do!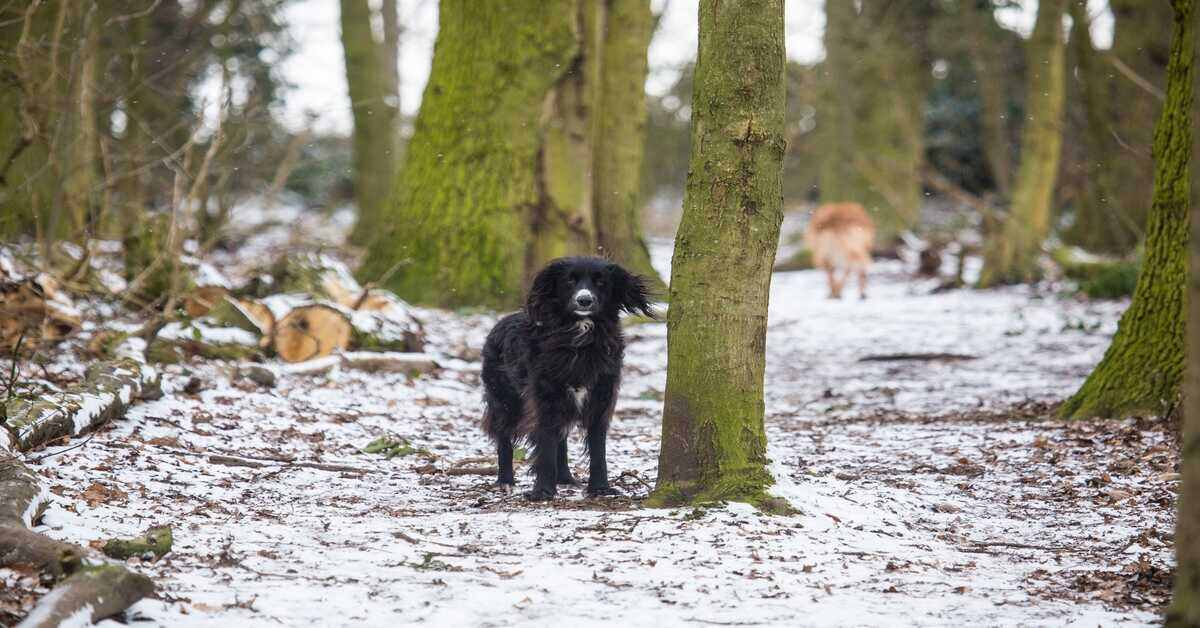 If you're going to get out of the house for a few hours with your dog, please remember that dogs shouldn't have too much exertion in winter. If they're not trained to deal with the harsh weather, then this could end up being a lot of work for you!
Don't forget the dog treats
If you're winter hiking with your dog, you need to remember that they need dog treats just as much as any other dog! Don't forget them – your dog will be glad if you do.
What winter accessories to wear on winter hikes
The winter hiking accessories that you need are a good supply of water, a map, and compass (for winter hikes or regular hikes in the winter), a flashlight, and an extra layer of clothing, in case you should get caught out in the cold.
In addition, pack a camera (you can use your phone camera if you don't have one). Winter hiking landscapes can be amazing! So, don't miss the opportunity to capture all those amazing winter pictures!
Winter hiking safety tips
Here are winter hiking safety tips to keep you safe whether winter hiking or snowshoeing:
– Make sure that you have winter survival kits with you when winter hiking.  You can get them at any outdoor store, and they include a lot of things such as flashlights, batteries, water bottles, winter maps, and winter emergency blankets.
– Be sure to dress in layers so you can take off or put on clothing depending on the conditions.  Wear a hat and winter gloves for warmth.
– When winter hiking, be sure to wear winter boots with good treads because snowshoes are no match for winter snow.  Please make sure they are waterproof winter hiking boots and that you wear winter socks to keep your feet warm and dry.
– Take plenty of water with you because winter temperatures can be very cold, and it is easy to become dehydrated in such conditions.  If you have a winter survival kit, then you will have winter water bottles in your winter survival kit.
– Take winter hiking snacks with you when winter hiking.  They can include things like trail mix, winter energy bars, and jerky to tide you over until the end of the hike.  Also, take food that will give you a lot of nutrients without weighing you down.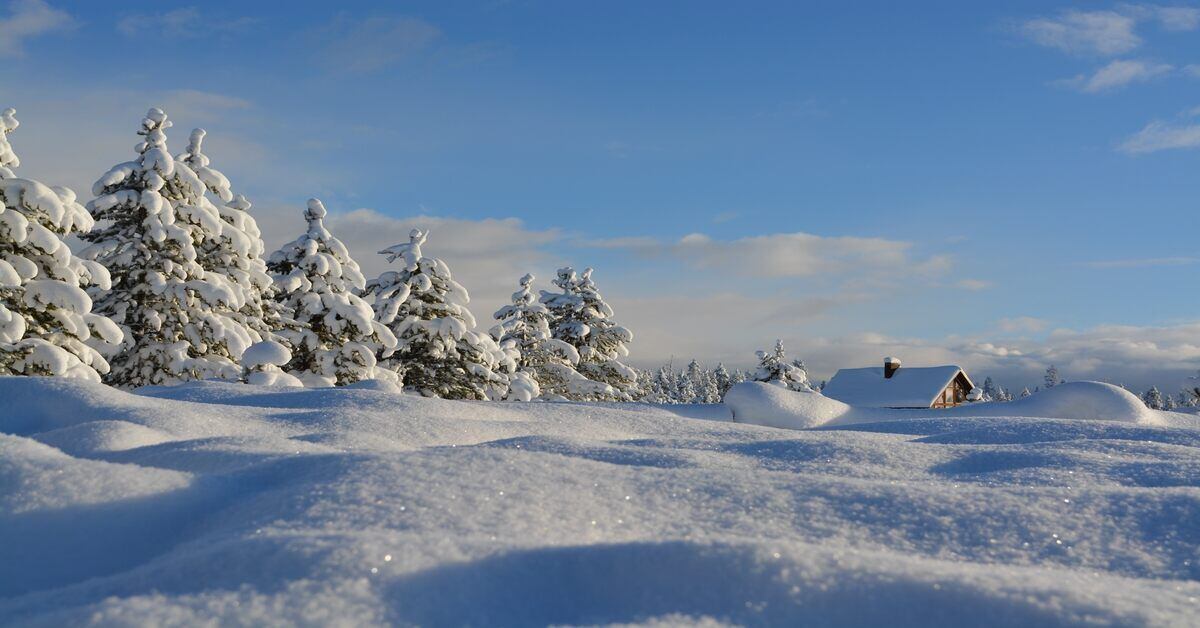 – Ensure that winter hiking clothing is marked "waterproof" and winter hiking boots are waterproof.
Good traction is crucial
– If you need traction for winter hiking, then purchase lightweight crampons that fit on your winter boots.  They are not winter hiking shoes but winter traction for winter hiking.  You can also wear snowshoes on winter hikes, which will give you more winter traction.
– When winter hiking, be aware of the emergency number in the park you're in and carry a cell phone with GPS abilities. You can use this winter gear to call for rescue in emergencies.
– Always look at a map and choose the best winter hike in an area if winter hiking conditions are unsafe.  A winter hiking trail is just a guide and not something that will keep you safe. You can also get advice from someone who has hiked in the area during the winter season.
– Be careful when hiking on steep trails.  It is easy to fall in snow conditions, so hike slowly and carefully with winter hiking poles for balance. Check out this post on the benefits of using trekking poles while hiking.
– If it begins to rain, then stop and find shelter until the weather improves. Wintery storms can be very dangerous.
– Be careful when hiking in areas where avalanches could occur.  They are killers, and winter hikers need to be aware of this before going on a hike in the winter.
– If you are camping, then make sure that you have a good tent or snow cave.
– Take winter hiking classes if you are a beginner.  You can find them at most outdoor stores or online through winter hiking websites; they will help prepare you for winter hiking.
Always carry your safety equipment
– Never leave your winter safety equipment in your car.  Always hike with safety gear on you at all times in your winter camping backpack if winter camping.  You can easily get injured or lost, so being prepared for an emergency will keep you safe.
– Watch out for wild animals.  The wildlife will probably be wandering about or searching for food and can attack or bite if disturbed by a winter hiker.  Also, watch out for snakes when going to the bathroom as well as ticks bites.
– Always hike with a companion and stay in pairs.  It is better to have someone there just in case something goes wrong.  Also, hiking partners can keep each other from getting lost and share the winter hiking gear weight.
– If you are planning a winter camping trip, visit the area first to look at trail conditions.  Note that trails can fool you into thinking they are safe when there could be avalanches or dangerous wild animals that aren't visible from trails.
– Hike with guides; winter hiking can be dangerous if hikers do not check trail conditions before camping.  You need to understand that winter hiking is very different from summer hiking, so going on a guided hike before heading out on your own will keep you safe.
Why should I bother taking up winter camping when summer is just around the corner?
– Camping in the winter is much better than in summertime because fewer people are out and about, which allows for more privacy at winter tent sites.
– Hiking or camping in winter allows campers to enjoy the less-crowded trails.
– Tents can warm up a winter camping site, so you don't have to freeze out in the winter cold.  Warm tents usually mean warm winter camping spots as well.
– Hiking in winter allows you to see wonders like woods and winter animals up close, all while enjoying the winter weather.  Winter hiking is much better than summer hiking because you can enjoy winter views with practically no chance of drowning in sweat or melting from heatstroke!
Checking for animal trails
– Winter hiking is winter fun, especially when winter trails are covered in winter snow and animal footprints! Animal tracks can tell hikers a lot about the winter animals; what they have been eating, where they were going, and how long ago that animal had passed, allowing you to know what kind of danger might be in paths. They also tell hikers what animals frequent the trails, so you will know what wildlife might be a problem.
Here's an article on how to avoid a mountain lion attack while hiking.
Winter animal tracks are fun to follow and look at; they are like little souvenirs of a winter hike because once the snow melts in springtime, hikers will be able to look back at the animal tracks and remember what hiking was like in winter.
– Wildlife can cross trails as they go about their daily lives. For example, hikers can see where a deer bedded down for the night by looking in its footprints or how long ago raccoons passed trails by looking at their tracks.  You can even learn if deer have been eating acorns or blueberries because seeds/nuts might be in the deer's footprints. Raccoons always leave their little scat on every winter camping site they visit. These things allow you to know what wildlife have been up to long before you see them.
A winter hike can be full of adventures! There are many winter hiking gear essentials that you'll need to ensure your safety and comfort. Make sure you have the right boots, jacket, hat, gloves, or mittens, as well as other useful items like warmers. I hope this post has inspired you with many ideas about what to wear and bring on a winter hike! If you have any tips or gear that's not mentioned in this post, please tell us about them in the comments section below!