If you're an avid camper, you know that having the right lighting is vital. Not only does good lighting provide safety and security, but it can also add a touch of ambiance to your campsite. With that in mind, here are 21 interesting lighting ideas for camping that will make your next trip a little brighter. Whether you're looking for something functional or just for fun, you will find an option that suits your needs.
1. Portable lanterns
These are a camping staple and come in various styles and sizes. They provide a reliable light source and you can easily hang them on a tree branch or tent pole. The main advantage of using portable lanterns as a light source is that they are usually fueled by propane or white gas. For this reason, you won't have to worry about finding a power source in the wild.
In addition, they have adjustable brightness settings so you can find the right amount of light for your campsite.
2. String lights
String lights will add some festive flair to your campsite. They come in a wide variety of colors and styles and can be used inside and outside your tent. Plus, many options are battery-powered, so you don't have to worry about finding an electrical outlet. Ensure you secure them properly, as they can be a tripping hazard.
3. Solar-powered lights
These are an excellent option for campers who want to reduce their environmental impact. Solar-powered lights harness the sun's energy and store it in rechargeable batteries, so you don't have to worry about running out of power. They come in various shapes and sizes, from hanging lanterns to stake lights that can be placed around your campsite.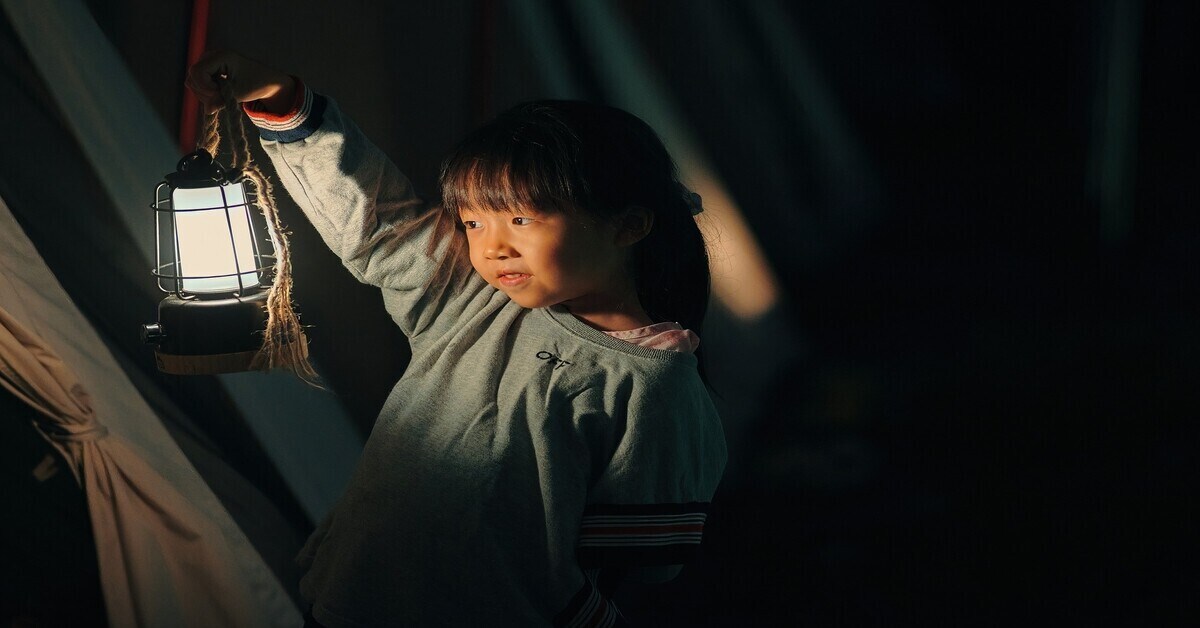 4. Battery-operated candles
Battery-operated candles are a good choice if you're looking for a more subtle and atmospheric light source. They come in a broad range of shapes and sizes, so you can quickly find one that fits your style. Moreover, they provide just enough light to create an inviting atmosphere without being too bright.
5. Flashlights
Flashlights are essential for camping and come in a range of sizes, shapes, and brightness levels. Headlamps are especially handy as they leave your hands free, allowing you to cook or set up camp without holding a flashlight. Many options are also waterproof, so you don't have to worry about them getting damaged in the rain.
Related: Tips For Camping With Kids
6. Glow sticks
Using glow sticks is one of the top lighting ideas for camping. Glow sticks are a fun and inexpensive way to add extra light to your campsite. They come in all sorts of colors, sizes, and shapes and can be hung around the perimeter of your tent. They can also be placed along the edges of the paths that lead to your camp.
7. LED strips
LED strips are an excellent way to light up the inside of your tent. They come in many sizes and shapes. Also, they don't take up much space and won't add significant weight to your backpack.
8. Spotlights
Spotlights are a great option if you need a bright and powerful light source. These lights usually come in rechargeable models and provide a wide spread of illumination that can cover your entire campsite. They often have adjustable brightness settings as well, so you can find the perfect amount of light for your needs.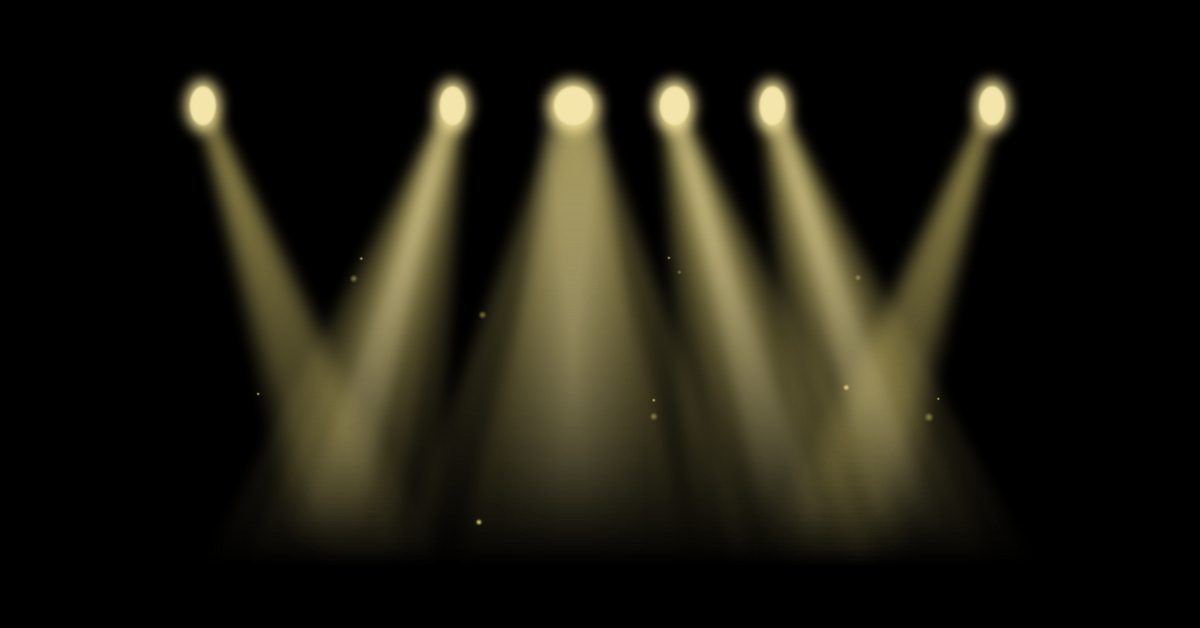 9. Lanterns with solar panels
These are ideal for campers who want to save battery power while still getting the convenience of a traditional lantern. The solar panel on top of the lantern soaks up energy during the day and stores it in a rechargeable battery. This is one of the best lighting ideas for camping.
10. Clip-on lights
Clip-on lights are a great way to light up your campsite without depending on batteries or an electrical outlet. They come in a wide array of shapes and sizes and can be clipped onto branches, poles, or other objects around the campground. What's more, they're usually very energy efficient, so you will not have to deal with power issues.
11. Flashlight apps
If you want to save on flashlight gear, you can also use your tablet or smartphone! There are free apps for Android and Apple devices that work just like a built-in flashlight. Just ensure your device is charged ahead of time so you don't get stuck in the dark! If your phone doesn't have a built-in flashlight, you can still find plenty of options for free or low-cost apps. Many also offer additional features such as strobe lights and adjustable intensity settings.
12. Emergency lights
It's always a good idea to pack an emergency light in case of power outages at your campsite. A battery-operated flashlight or lantern is a great option, as it can keep you from being stranded in the dark. Emergency lights are also handy for signaling for help if you get lost or run into other problems while camping. With emergency lights, you'll be prepared for anything!
Related: How To Tie A Hammock
13. Glow jars
Glow jars are a fun and easy way to add ambient light to your campsite. To make one, all you need is a jar, a few sticks of glow-in-the-dark paint or markers, and some tissue paper (optional).
Just trace the design of your choice onto the outside of the jar with the paint or markers, then cut out a piece of tissue paper and place it inside the jar. When you flick the switch, the inside of the jar will light up in an eye-catching way!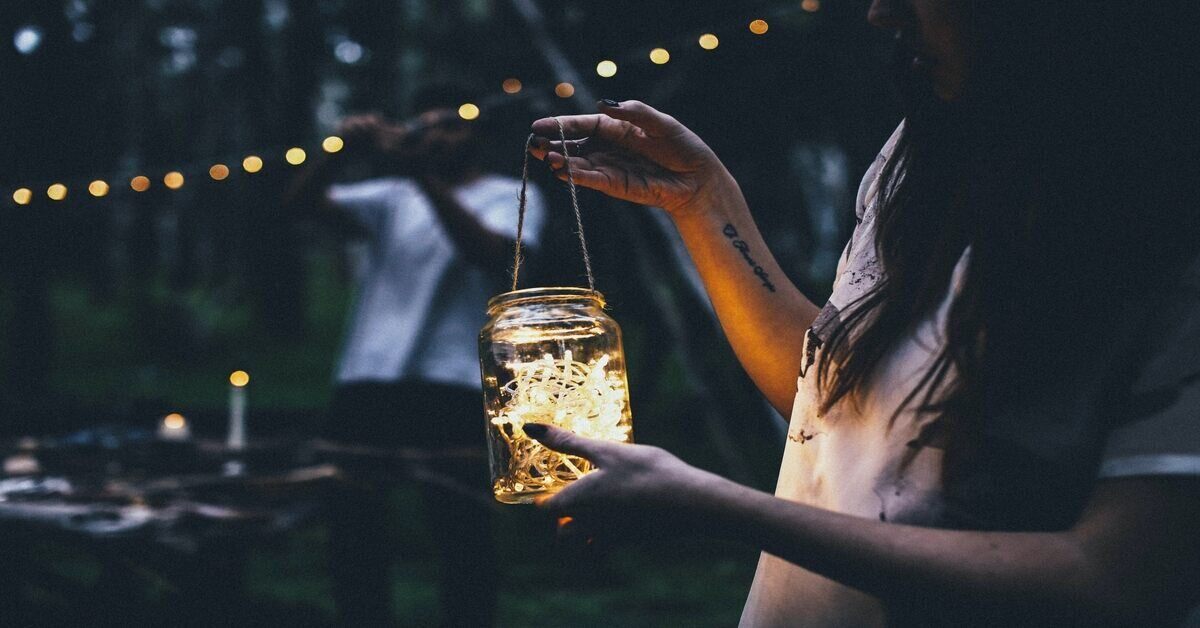 14. Portable Firepit
No camping trip is complete without a portable firepit. You probably don't think of it as a lighting source, but it can be! Portable firepits come in all shapes and sizes.
They also make great centers for gathering around during the night – perfect for roasting marshmallows or telling stories. With a portable firepit in your campsite, you can enjoy the warmth of the flames and a wonderful night-time ambiance.
15. Campfire
The classic campfire is a must-have for any camping trip. Not only does it make your site look amazing, but it also provides warmth and light that will keep you comfortable throughout the night. This is why it should be among the top in your lighting ideas for camping. Make sure to follow all campfire safety guidelines to enjoy the campfire without incident. With a well-built campfire, your campsite will be lit up and ready for a great night under the stars!
16. Book lights
Book lights are an excellent way of illuminating your campsite without too much light pollution. They clip onto the page of whatever you're reading or any other object you want to light up and provide a soft, low-level glow that won't disturb other campers. Book lights are lightweight and small, making them easy to carry around and store.
17. Tea lights
Tea lights are the ideal lighting source for creative campers. Just pop the tealights into mason jars or other containers and place them around the campsite for a warm, inviting look. Tea lights will provide enough light for basic tasks like setting up gear and gathering around the firepit. Plus, they're easy to move around and cost-effective!
18. Use a headlamp as a lantern
Headlamps are a camping must-have. What many campers don't know is that they can use a headlamp as a makeshift lantern. Just set the headlamp to its widest angle and put it on a flat surface in the campsite. This will provide plenty of light for your night-time activities without taking up much space. With this trick, you'll have your own mini lantern that you can take with you wherever you go!
Related: How To Stay Warm In A Tent On Cold Nights
19. Glow stickers
Glow stickers are a fun and easy way to add lighting to your campsite. Just stick the glow stickers around your tent, pathways, trees, or anywhere else you want to add a bit of light. When the sun sets, they'll give off a soft and inviting glow that will help guide you around the campsite. In addition, they're a great way to add a bit of fun to your camping experience.
20. Landscape lighting
If you have access to electricity at your campsite, you can use landscape lighting to create a beautiful and inviting atmosphere. You can place these lights around pathways, trees, tent sites, or anywhere else you want to add a bit of ambiance. Landscape lighting will make the whole area look more attractive and welcoming so that you can enjoy your camping trip to the fullest. You should definitely include it in your outdoor lighting ideas for camping.
21. Luminaries
Luminaries are flame-retardant paper bags filled with sand and a candle or small light. When lit, they provide a soft and inviting glow that will make your campsite look extra special. Ensure you use battery-operated lights instead of candles and follow all safety guidelines when setting them up.
Things to consider when getting lights for camping
Battery life:  Depending on the type of lights you are using, make sure to bring enough batteries or rechargeable sources of power.
Weight: Since you have to carry all your supplies in and out when camping, choose lightweight options that won't add too much bulk to your load.
Brightness: Consider the amount of light needed while camping. Brighter lights may be necessary if you're in a location with limited visibility.
Safety: Follow all fire safety guidelines when using open flames or other light sources. Additionally, keep the lights away from flammable objects.
We hope that these lighting ideas for camping have given you some inspiration for your next trip. Whether you're looking to add some ambiance or just need a bit of light to guide your way around the campsite, there are plenty of options to choose from. Happy camping!