Doc Martens are a timeless fashion item that many users wear almost weekly. These iconic leather boots have avid fans who swear there are few shoes of the same standard on the market. But, while Dr. Martens may look wonderful, can you go for a hike in them? Let's discuss.
Can You Hike in Doc Martens?
You can hike in Doc Martens since they offer good cushioning and great traction. However, it would be best if you only stuck to short hikes on relatively flat terrains as they have ankle support and waterproofing issues. If you want to hike on challenging trails, look for proper hiking boots.
LEGAL DISCLAIMER: This post may contain affiliate links. If you click an affiliate link and make a purchase, I may earn a commission. Also, as an Amazon Associate, I earn from qualifying purchases.
Hiking in Doc Martens
When you are a beginner hiker, you probably have limited options for hiking footwear. You have most likely met people going on walks in their Doc Martens. But how do Doc Martens really perform on the trail? Is it more than just an everyday activities shoe? We will look at various characteristics of Dr. Martens to find out whether you can go for hikes in them.
Related: Can you hike in Blundstones?
Traction
When it comes to hiking shoes, good traction is vital as it ensures you don't lose your balance and fall when walking on wet, muddy, icy, or rocky trails. This is important as it will help you prevent injuries caused by falls. Doc Martens' rubber soles have treads that provide good grip especially when walking on icy or wet trails. They have great traction as they were designed to be worn by workers who spent most of their workdays on factory floors. The treads also prevent punctures when walking on paths with sharp rocks.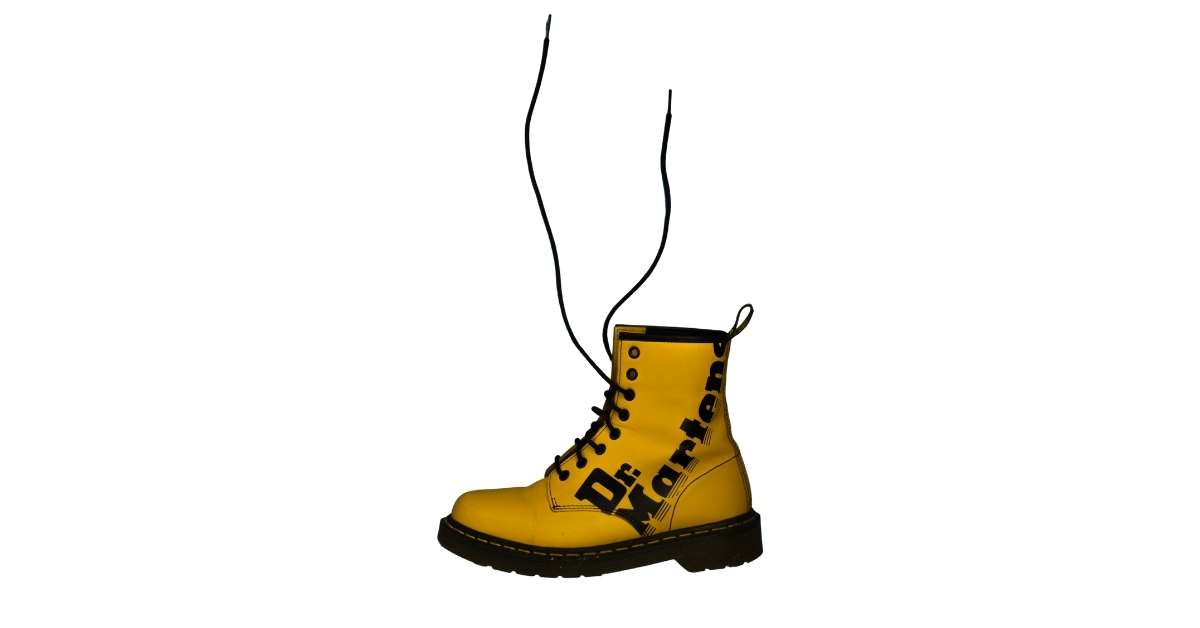 Ankle Support
While hiking, you need a hiking shoe that protects your ankle to prevent sprains as you navigate terrains. So, good ankle support is something you should look for when shopping for a pair of good hiking boots. Dr. Marten's uppers are taller than regular shoes, which means they can provide good ankle support. Remember that the uppers are thin, so they may not be the best option if you are specifically seeking boots that provide great ankle support.
Durability
Hiking boots must be durable enough to withstand the harsh conditions on the trails, especially if you regularly hike on rough terrains. If the shoes are not made of tough material, they wear out quickly. If you are an avid hiker, you probably don't want to look for a new pair of hiking boots every two months. Doc Martens hiking boots are made with the highest quality leather and are designed to be strong and long-lasting.
Dr. Martens Unisex 1460 Slip Resistant Service Boots:
Comfort
Comfort is one of the most important things to look for when purchasing new boots, especially hiking boots. Doc Martens have a competitive edge in this area as these boots are quite comfortable when you have broken them in perfectly. When you wear brand new Docs to a hike without breaking them in, they could cause blisters. Keep reading to find out some tips for hiking on Doc Martens.
Related: How to get in shape for hiking
Stability
Good hiking shoes must be well-fitting and protective of your feet on the trail. Doc Martens has always made it a top priority to provide footwear that protects its wearer. The tough leather surfaces and steel toe caps on select models provide much-needed protection. Unfortunately, the brand's rugged models don't offer the flexibility needed for difficult hikes.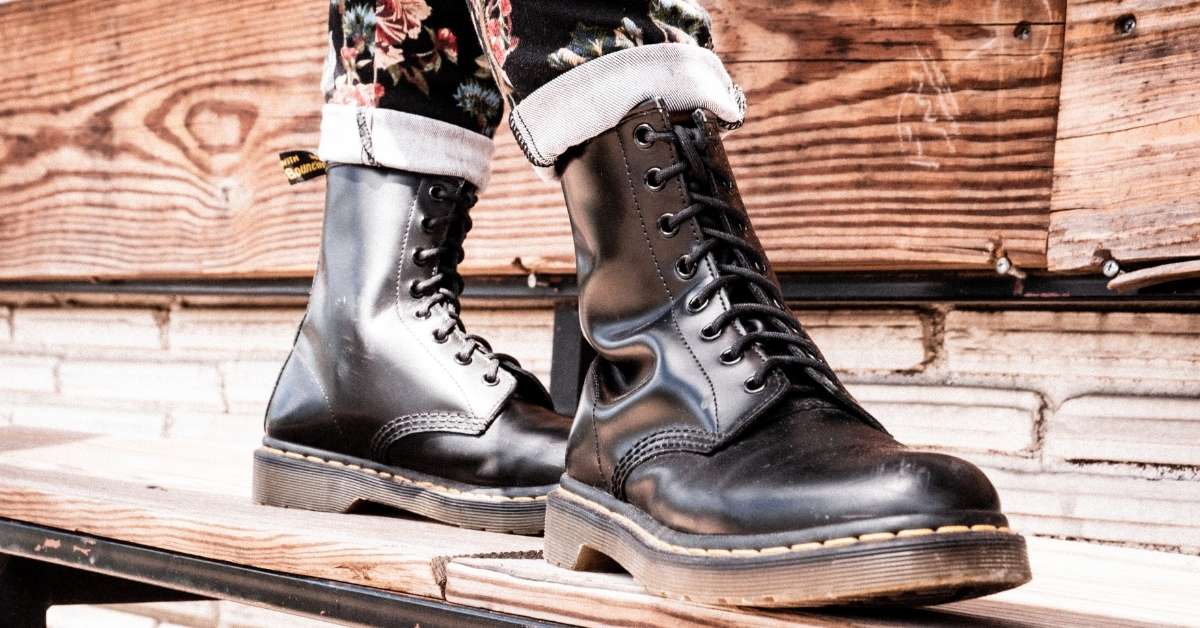 Doc Martens Pros and Cons
Doc Martens Pros
Here are some reasons why Doc Martens have been a popular shoe option for decades;
They have an air-cushioned sole that creates a spring feeling under the foot, making the shoes comfortable.
Doc Martens provide style from their distinct stitching. They also come in various models, sizes, and colors, offering many style options.
They are made with quality leather making them durable.
Doc Martens are slip-resistant. The soles are made of rubber, providing different degrees of tread.
When treated with the waterproofing spray, Doc Martens become waterproof and insulated.
They have the sole cushioning that protects you from rocks on the trail and offer good arch support.
They're made of tough leather and some models have steel toe caps for protection.
Doc Martens Cons
They are heavy; Doc martens are relatively heavier than most hiking boots, slowing you down when you are out on the trail.
Doc martens require prepping before they are ready for hiking.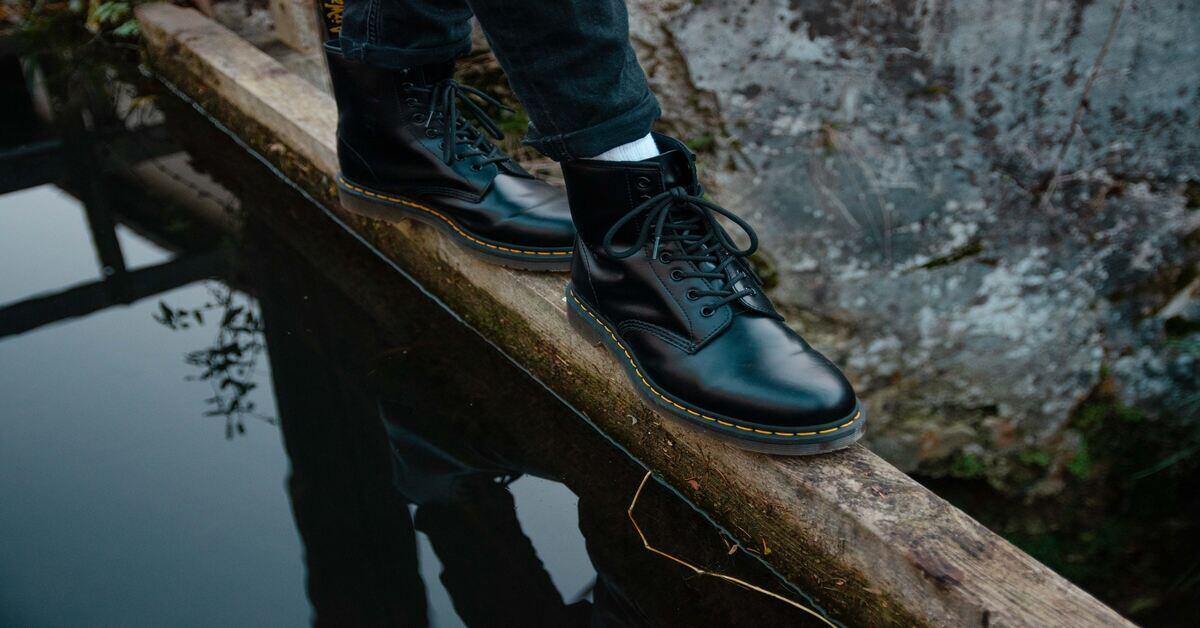 Related: Tips for hiking in the rain
How to Break In Doc Martens
The best Doc Martens are the ones you have been wearing for a while and have broken in perfectly to the shape of your feet. Here's how o break in your new pair of Doc Martens:
Wear thick socks. The socks protect your feet from rubbing against the rough interior of the boots and aid in stretching the leather. You can wear two socks together if you do not have a thick pair of socks.
You can use a small hammer (wrapped in a towel or cloth) to soften the leather by hitting gently, especially on the heel area.
Massage the boot gently using your hands. Focus on the boot's tightest parts, such as the toe area and the heel.
Stuff old t-shirts into your Doc Martens, tie the laces up and leave them in that state for a couple of hours.
Wear your new pair of Docs at home and walk around the house for around 10 minutes. Take them off as soon as they begin to hurt. Do this several times (ensure you wear your socks during these sessions).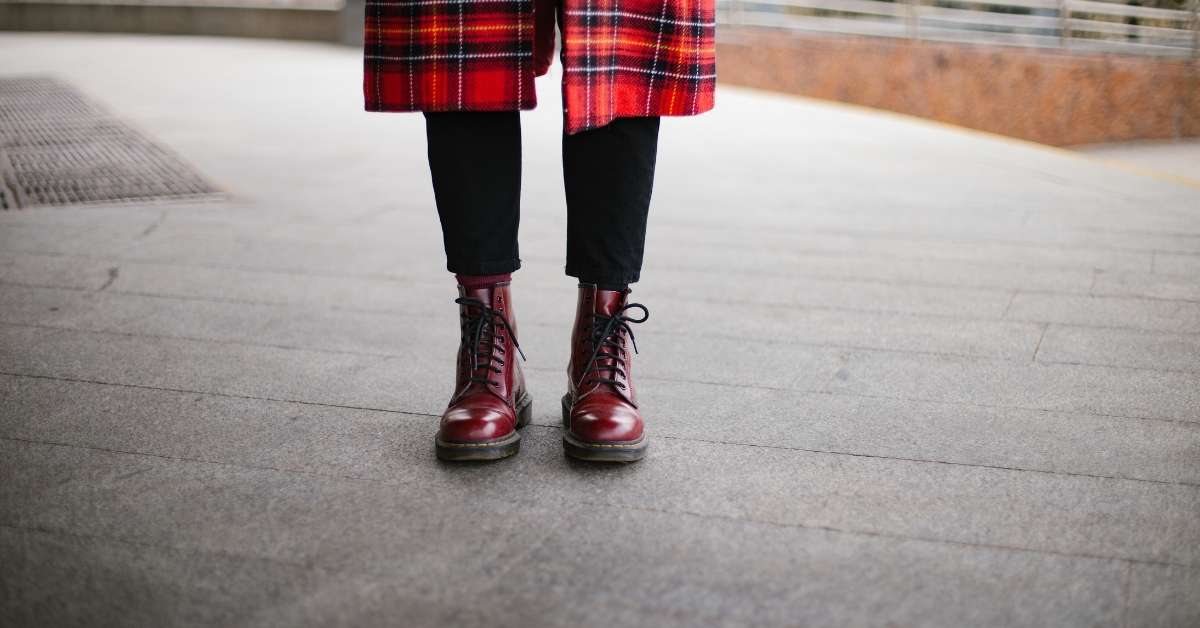 6. Heat the back of your Docs using a hairdryer. Hold the hairdryer at about 20-30 centimeters, heat for 15 seconds, and then stop and            massage the boot. Repeat this three or four times and wear the boot to see how it feels. Ensure you don't apply a lot of heat as it could damage the leather.
7. Use Dr. Martens products to soften, clean, and protect the leather. Alternatively, you can use cleaning and softening products that contain beeswax, coconut oil and lanolin. These products can also improve Doc Martens waterproofing feature.
8. Skip one of the holes (around your ankle area) when tying the laces to make the boots easier to bend and speed up the breaking-in process.
Related: What to wear hiking in the summer
History of Doc Martens
In 1945 Dr. Klaus Märtens, a 25-year-old soldier, returned from the second world war with a broken foot. As he nursed his injury, Dr. Märtens needed a shoe to cushion his foot and offer a better grip as he moved around. That's when he came up with the air-cushioned sole design. Dr. Märtens partnered with his old university friend Dr. Herbert Funck, a mechanical engineer. Within the next ten years, their unique boots had grown in popularity, and in 1959, they decided it was time to promote their ground-breaking footwear.
In 1960, Bill Griggs, who was running the Griggs Group, producing shoes since 1901 in England, saw the air-cushioned sole boots advert and reached out to them. The two parties signed an exclusive license, and a few changes were made, such as the distinctive yellow welt stitch, an altered heel, and a two-tone grooved sole edge.
The Doc Martens initially targeted the working class, but their popularity grew to different heights. They became a symbol of self-expression over the next decades. As the 2010s rolled in, the era of social media and youth culture revolution came, but many individuals still loved Doc Martens. Musicians, artists, and celebrities popularized the shoes more.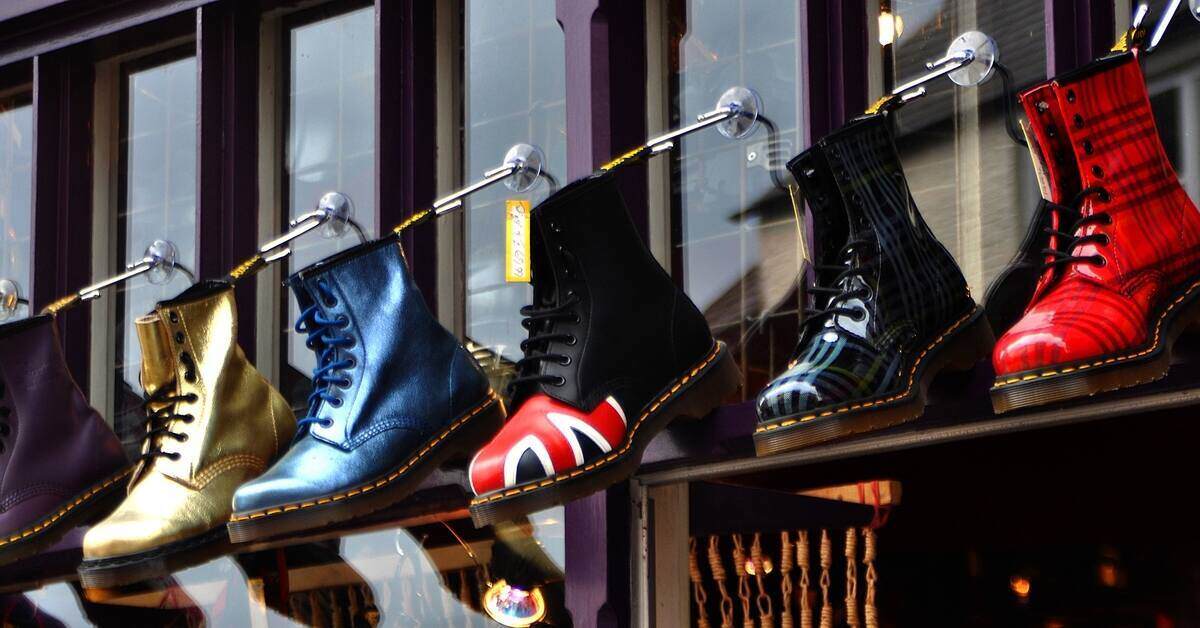 Tips for Hiking In Doc Martens
Doc Martens weren't designed for hiking. So if you plan to hike in them, do the following:
Break them in first. This way, the shoes will adjust to the size and shape of your foot and help you avoid blisters and discomfort.
Limit your hike to smooth terrains and short durations.
Wear long, thick socks when hiking in Doc Martens. Thick comfortable socks provide extra padding and prevent chaffing.
If you have several pairs, go with the one you've worn the most.
Switch out your insole for a more cushiony one if necessary. Comfort while hiking is key and ensures you do not tire easily.
Waterproof your Docs with a spray first if necessary.
Frequently Asked Questions
1. Are Doc Martens comfortable?
Once broken in, Doc martens provide comfort. The boots feature an air-cushioned sole that makes them easy to walk in. They're also thin and flexible and have treads to offer traction when walking on different terrains.
2. Will doc martens get ruined in the snow?
Doc Martens were initially made for the working class, so they were designed for durability and endurance. The tough leather ensures they do not get ruined easily when trekking in snow and the treaded outsole provides great traction.
3. Are doc martens good for walking?
When you break them in, Doc Martens are ideal for walking. They provide comfort and flexibility as the leather molds to the shape of your feet. Their sturdy construction means you can wear your pair of Dr. Martens for many years.
4. Are Doc Martens waterproof?
Doc Martens are not entirely waterproof because they are made of leather, a material known to be permeable. Treat them with waterproof spray or wax to make them water-resistant. Note that even when you do this, your Dr. Martens will not become fully waterproof.
5. Should you size up or down in doc martens?
Doc Martens usually come in whole sizes. So if your shoe size falls on half a size, you will need to size up. This is because it's advisable to wear Doc Martens with thick socks, especially when breaking them in. The thick socks will make them more uncomfortable when they're ill-fitting.
6. How to break in doc martens overnight
Heat the back of your new Doc Martens with a hairdryer for about 15 seconds at a distance of 20-30 centimeters, then stop and massage the boot. Do this around for times. You can also stuff some t-shirts inside the Doc Martens, tie the laces and leave them in that state overnight.
7. Do doc martens give you blisters?
Doc martens are best worn with long, thick, comfortable socks. The inner lining of Doc martens rubs against the foot and creates blisters. The extra padding provided by socks protects friction points like the back of the heel from getting blisters.
Hiking in Doc Martens (Verdict)
Doc Martens are among the most long-lasting and robust footwear available. Because of their innovative engineering and timeless design, you can wear the boots when doing various activities. So if you find yourself asking whether you can hike in Doc martens, the answer is yes. However, it would be best to stick to short hikes and flatter terrains as Dr. Martens were not built for hiking. For long and strenuous hikes, you are better off with hiking boots.